How to view financial reports ¶
To view financial reports, select "View Financial Reports" under the Financial tab.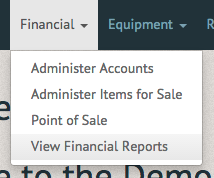 The Generate Financial Reports page allows you to view financial reports between specified dates, select the type of report and the output method (a webpage document or a downloadable spreadsheet). Viewable reports include transactions, transactions by account, transactions by payment method and account revenue by payment method.
Quickbooks support will be available Q4 2015.
Once you've chosen the desired options select "Generate Report" at the bottom of the page.