How to remove a participant from an event ¶
If you need to remove a member from an event, go to the event page and scroll down to the "Participant" section.

Click on the name of the member you would like to remove. Notice, you have the options to view their profile, Remove them or Swap event (to swap a user into another event, see How to swap a user to another event) (Note: when moving participants from paid events one should always swap members, as swapping retains a link to payment information while removing, then adding them does not).

You will be prompted to confirm removing the member from the event.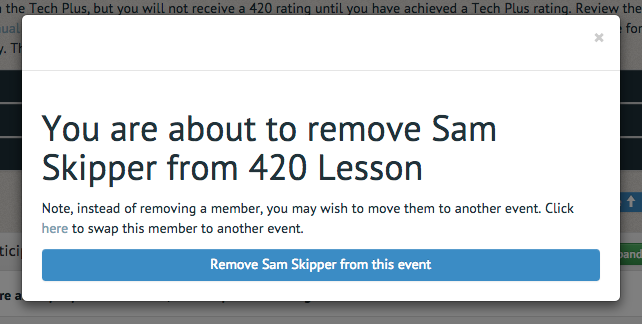 Do not remove paid participants from an event unless you are issuing a refund, as their payment information will no longer be associated with any event.  If you are moving a paid participant to another event, use the swap event feature to move them.
Once you have finalized the removal, a reminder will appear at the top of the page confirming the success of your action.